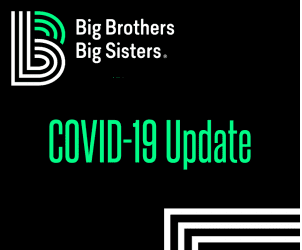 From all of us at BBBS of Greater Birmingham, we send you, your families and loved ones our heartfelt continued support during these times. We are here for you and encourage you to reach out if we can offer any support or guidance.

The families we serve, are facing some of the most challenging times. Families with fewer financial resources, now have fewer options as they navigate the new normal. Our families cannot afford to stockpile food and other necessities. For many children receiving free or reduced lunch, these meals must now be provided at home by caregivers already desperate to find essential resources. BBBS has created a COVID-19 Relief fundraiser with a goal of $80,000. All funds raised will help BBBS staff continue to support our families and children during these uncertain times. We hope you consider making an investment at this time.
BBBS has had to cancel major fundraising events that account for a large portion of our annual budget. We have set a goal of $80,000 to ensure that Birmingham youth and their families continue to receive resources and support even during the economic uncertainty caused by COVID-19. These funds will ensure BBBS staff is working full time during this crisis to support our matches.
$25 helps connect families and volunteers to much-needed resource
$50 provides technological support between Bigs and Littles
$100 allows us to provide matches with engagement tools and educational support
$500 ensures school-based, workplace and community-based matches continue to be supported
With each day, there are new challenges and obstacles to overcome, but we will weather this storm.
Thank you for defending potential,
Sue Johnson CEO