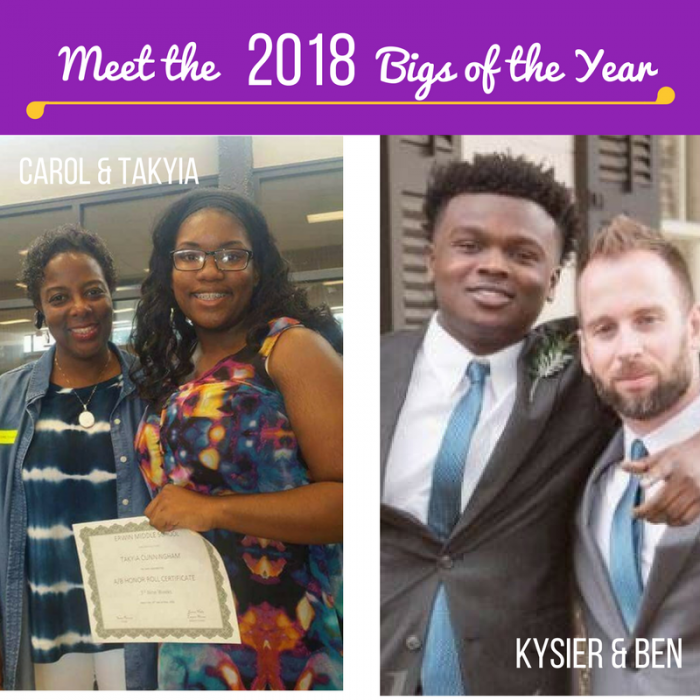 Each year Big Brothers Big Sisters names a Big Brother and Big Sister of the Year. This title goes to two volunteers who have built a long-standing and meaningful relationship with their Little. This year's Big Brother of the Year is Ben Murchison who has been matched with his Little Brother Kysier for 10 years. The Big Sister of the year is Carol Meadows, who has been matched with her Little Sister Takyia for 8 years. Below are their stories.
Big Brother of the year Ben Murchison
As my Little Brother Kysier and I draw closer to our 10 year anniversary in BBBS, I find myself reflecting on the first day we met. Prior to our first meeting, I'd interviewed with BBBS to tell them about my interests, beliefs, and why I felt compelled to become a Big Brother. At the end of the interview, the person interviewing me said she felt confident that she already had a match in mind for me. While I can't recall her name, I hope she knows she hit a homerun by matching me with my Little Brother Kysier. She not only paired me with a wonderful kid, but also with a tremendous family that I remain close with to this day. I felt an instant bond with Kysier, along with his Mom, Lesonja, and his older brother, Romey. They are my Birmingham family and I would do anything for them.
There are many special moments and events that I can highlight throughout my time with Kysier, but I'm equally fond of what became our 'routine' for so many years. On most Saturdays, I would pick Kysier up early and take him to the YMCA to play basketball, swim, and lift weights. We'd catch up on the previous week's events in school (and Auburn football) on our drive to the Y, and we'd usually talk through any issues he was having during an always competitive game of one-on-one basketball. He won. A lot. Our Saturdays would always conclude the same way; a trip to Moe's Southwest Grill for Chicken Nachos. I feel these days were where he and I truly formed our bond and got comfortable sharing our feelings with each other. While we often stuck to our routine, we did do a lot of other fun activities. We took several trips to Auburn for big football games, and also attended countless Samford University sporting events. I always felt it was important for my Little Brother Kysier to see the benefits, and fun, that come with going to college.
Perhaps my fondest memory is Kysier being a groomsman for my wedding in 2017. He kept me company and calmed my nerves during the morning of my wedding as I anxiously awaited the ceremony and wrote my vows. As he walked down the aisle with the other groomsmen I smiled and reflected on the smiling 3rd grader I'd met back in 2008 who wanted to talk about sports as soon as I met him. He'd grown into a smart, athletic and motivated young man with a very bright future. My wedding would not have been complete without him being there, and I hope that I'll one day be walking down the aisle as a groomsman for him. There are countless other memories I can recount, but these ones stick out the most. Being a Big for my Little Brother Kysier has broadened my overall view of the world, has been rewarding beyond measure, and has changed my life forever.
Little Brother of the Year Kysier Womack
I love Ben being my Big Brother.  He has always been very nice and thoughtful.  He gives me great advice when I need to hear it and has been the best big brother in the world.  He helps me with issues that go on at school and checks on me daily. He is like a father figure to me.  My Big Brother Ben helps me train for upcoming activities that I am doing and is my inspiration.  If I could have one thing, it would be that Ben could be my Big Brother forever.  He is and will always be a role model to me.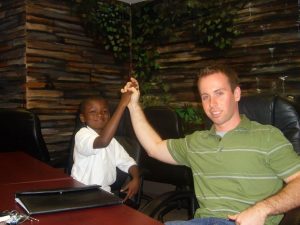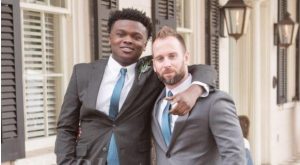 On left, Ben and Kysier at their Match Meeting in 2010. On right, Ben and Kysier on Ben's wedding day.
Big Sister of the Year Carol Meadows
I have always been a person who enjoys giving and spending time with kids.  I was single with no children for a very long time.  My friends were encouraging me to maybe adopt but I did not think I was quite ready for such a huge change in my life, especially since my job required a lot of traveling.   I knew I wanted to do something that involved helping kids.  I would often see the commercials and other marketing pieces about being a Big Sister. I decided to do some research.  I went online and read about the program and immediately knew that it was a perfect fit.  I filled out the application and was immediately contacted.  I can truly say that the Big Brother Big Sister program does an excellent job in making sure that they have quality Bigs to match the Littles, as my references would tell me every day how many calls they received concerning my character.
I first met my Little Sister Takyia at her grandparents' house.  The meeting felt as though I had been knowing Takyia and her grandparents all of my life.  We immediately bonded and at that very moment, I knew that I had made the right decision to become a Big Sister.  We planned our first outing that day, which was dinner at O'Charley's where would could talk and get to know each other.
It seems like it was just yesterday since we went on a Big Sister trip to the Governor's Mansion for an Easter Egg Hunt or we sat at the kitchen table in my home and worked for hours on various homework assignments.  I have enjoyed taking Takyia to various rehearsals for plays and dances that she has participated in for many years.  We have enjoyed trips to the Georgia Aquarium, World of Coca Cola Museum, U.S. Space & Rocket Center, Zoos and Parks to name a few.  I have been there for every, birthday, Honors and Awards Day and 8th grade graduation.  My Little Sister Takyia and her family all attended my wedding and I shared in the celebration at her mom's wedding.
I can truly say that one of the most important aspects of my relationship with Takyia is that we both are strong in our Faith and belief in God.  We enjoy spending time together at church and both are very active in church ministries.  There have been some challenging times with school work and we have always been able to pray together and the outcomes have been successful.  My Little Sister Takyia is now in high school and on the Honor Roll, working a job and has her driver's permit.
I stepped out on faith and committed myself as a Big Sister and not only have I been Blessed with a little sister, but I have been blessed with another family.
I know the future holds many blessings for Takyia and I am thankful every day that I was able to help make a difference.
Little Sister of the Year Takyia Cunningham
What Carol Means to Me
My Big Sister Carol has had a big impact on my life. She has helped me increase in my education, self-esteem, and become the person I am today.
When my mom went to prison I really didn't have anyone I could go to and have fun with. I felt alone and Carol broke me out of my shell. I cried a lot while my mom was away and Carol helped me to feel better and showed me love. Carol is special, the type of person you just don't find anywhere. She is nice, respectful, loving, fun, and one of the most caring women I've ever met.
One day Carol invited me to be in her wedding and I was so excited about that. Carol is like family and my entire family loves her very much. I have had sleepovers at Carol's house and she has helped me with lots of homework. She has been to all my dance recitals, came to see me on holidays, and at school programs.
If I had never joined Big Brothers Big Sisters of Greater Birmingham and received a big sister I probably would still be that shy, crying girl, who struggles with her work. I would never know how to interact with others or believe in myself. I would have never experienced so much fun or all those new places. Thanks to my Big Sister Carol, I am determined to be successful, graduate, and one day become a big sister, myself. I want to be a role model and mentor to other shy and depressed little girls who need love.